CHANGE THE FACE OF MEDICINE
At Channel Innomatrix, we are the front runners in promoting cutting edge technologies and intend to embrace a systematic approach to address healthcare from fundamental assessment to diagnose and eventual intervention. Below is a selection of our key products which present this philosophy and are being used the fields of diabetes and life style diseases, cardiovascular and renal diseases, anti-aging and skin care, as well as health screening and sport medicine. For further information on purchasing or distributing these products, please feel free to contact us via email or using the online form under
/.
Alfa Fractal Bio-analysis Bio-fractal analysis and bio-energy analysis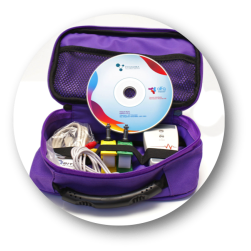 Fractal Dynamic Analysis is a profound mathematical approach towards self-regulatory non-linear system in the universe, it has profound implication on medicine. Application of fractal analysis provides a unique tool to understand the regulation of the physiology in health and diseases. The human body is exposed to various kinds of stress: .physical, mental and emotional. If the stress is too big, then the body's regulatory system becomes strained, exhausted and weak. The body's reaction to stress depends on the individual's energetic and functional resources. The energetic resources are nutrients, such as proteins, fats, carbohydrates and oxygen. The functional resource is the body's ability to work flexible and restructuring in response to stress. Pulse is the best indicator of health, all the life processes in the human body are reflected by the pulse which is synchronized with the heartbeat. Even a little stress of the body leads to alterations of these rhythms.

By combining proprietary technology based fractal dynamic principle, Alfa and Alfa Energy two in one system provides insight on the dynamics of cardiac rhythms, autonomic system balance, energy consumption, preservation and flow to provide real time bio-feedback on the wellbeing of individuals.
---
ES Complex New approach to homeostasis evaluation and health screening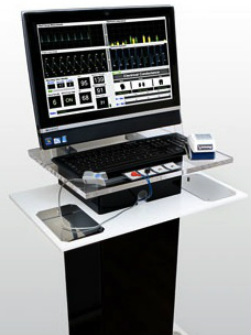 ES Complex, system consists of a sophisticated software base proprietary algorithms and a serial of electro sensor devices, gives a holistic health assessment in less than 5 minutes. This cutting edge technology, based on electro- somato-gramm (ESG), is mapping the whole body of the patient for getting information about the health status, and can monitor changes with follow-up exams. It can give information about the actual acid-base balance which is a basical indicator of the body health status. Such examination is very simple, painless and can deliver over 30 essential physiological parameters based on input from spectrophotometric, oscillometric and bioimpedance. The device is extremely useful for diabetes, cardiovascular diseases and prostate cancer screening and clinical management. In addition it provides advices on individualized nutrition, exercise and life style, as well as recommendations on follow up tests and pharmaceutical selection. With the EIS Oxi, it can also be used for tele medicine. Key parameter groups including:
Hymodynamic parameters
Autonomic nervous system
Endothelial function
Sudomotor function
Body composition
---
ANS-1 One stop management on diabetes and its complications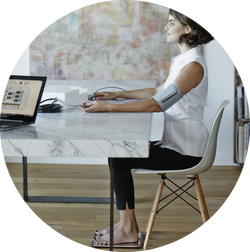 Arterial function, Sudomotor function and Autonomic System analysis all in one
Validated again OGTT, HbA1C, Homa2-IR, HE Clamp, Michigan Neuropathy Score
94.1% sensitivity and 95.6% specificity on diabetes screening
88.2% sensitivity and 88.2% specificity on Atherosclerosis
91.4% sensitivity and 79.1% specificity on peripheral neuropathy
FDA & CE approved with patented technologies
CPT codes available in USA
---
AGE Reader Non-invasive assessment of Advanced Glycation Endproducts (AGEs)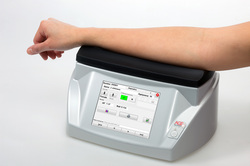 Based on a proprietary novel invention and cutting edge technology, AGE Reader represents a state of art diagnostic tool that allows non-invasive measurement on tissue accumulation of Advanced Glycation Endproducts (AGEs). AGEs are essential biomarkers for a host of age-related life threatening diseases as well as general aging process in human. The introduction of AGE Reader marks a technological breakthrough and has profound implication on the discovery and clinical management of diabetes, cardiovascular diseases, renal diseases and anti-aging researches.

AGE Reader is patent protected technology and is being utilized in biomedical and clinical research, clinical practice, risk screening, anti-aging and cosmetic industries across the world.
---
Airnergy Innovation Award of the Century (1912-2012)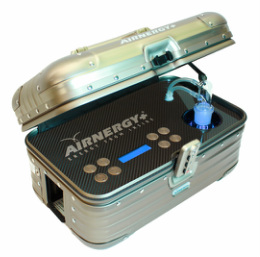 For the first time in the history, a product and a technology like Airnergy has received the prestigious recognition as Innovation of the Century (1912-2012) by Fitness Tribune. This remarkable achievement is largely owing to its innovative nature that assembles several groundbreaking principles discovered by leading scientists in the last century. Airnergy make use of biosynthesis principle to create energized air and water, which in turn stimulate inner body to generate a cascade of detoxification, revitalization and rejuvenation processes naturally. Airnergy is patent protected interventional device in quantum biology.

To date, Airnergy has been accredited to the success of leading athletics, sport teams, anti aging clinics, wellness centers, healthcare professionals and medical hospitals around the world. Its role in anti-oxidative stress, anti-inflammation, anti-aging determines Airnergy is a technology of life.
---
Kita Bio-sonic healing The future of medicine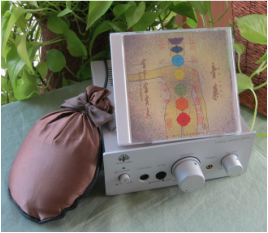 In spired by the idea from one of the best known scientists in the world, Dr. Itokawa Hideo, KBM is an innovative device converts the sounds of musical melodies and rhythms into waves that create harmonic massage in cellular level through out our tissues and organs. The deep soothing low frequency music (less than 150Hz) is conducted to the body as vibration while the same music is echoed in the brain by listening to it via a pair of earphone.
​
The regenerative health effects of KBM 051 have been proven by leading medical specialists in their respective fields.
---
Monochromatic light The super optical software for your brain
Light is the very basis for the vigorous existence of most species and indispensable for navigation. With a speed of 300.000 kilometres per second it is the fastest message carrier in nature. Evolution developed eyesight 500 million years ago to facilitate survival. All life forms are entirely dependent on the colours of light. Colour means information and strong optical signals have an enormous impact on biological systems. The colour coding cones of our retina are much older than the degenerate rods only performing in black and white.

The most attractive visual stimulants lie in the monochromatic range. As seen in the sparkling iridescence of gratings and prisms, peacocks and scarabs. These super colours have very high information value and are biologically closely related to laser light. Photons are a powerful optical software to the brain and the human visual system is extremely sensitive to light variations. The deep influence on human body rhythms is widely recognized. Our hormonal and emotional cycles are closely linked to the qualities of the ambient light.

Light therapy is a key feature in modern health care and personal enhancement. Practical applications include chromatic psychotherapy and body treatment, vision training and cognitive rehabilitation. Sound biologic lighting is a healthy antidote to modern light pollution.
| | |
| --- | --- |
| Animation video on AGEs and AGE Reader | Testimonials on Airnergy |